Interior design
A collection of ideas for your home
Laying plywood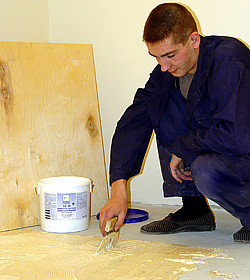 All wet work at the site must be completed before laying plywood. Implemented waterproof plywood 12-15 mm thick.

Sheets of plywood cut to pieces 50 х50 cm (but not more than 50 х70 cm) and stacked on sealant or adhesive. Plywood further establishes the dowels, must use at least 5 dowels on a piece of plywood.

After laying plywood made its grinding and wet cleaning of the premises. Humidity plywood grounds should not exceed 8-10% for the exclusion of his deformities, which could cause further damage to the parquet surface.

Changes in color or deformation of the parquet coatings can be caused by high humidity grounds shift its elements, heated to temperatures exceeding 30 C because of the presence in the floor heating pipes or oil pollution grounds, paint, bitumen, etc.


© ƒизайн квартиры и интерьера