The psychology of perception of visual information
Explain "to bone" things and phenomena from the very midst of daily life. Like painting or not. Convenient, comfortable in the room or not. In consciousness comes only result and head while doing really great analytical work.

Looking at the picture we gaze runs from the top left corner in the lower right. Ever. No exceptions. Orthodox and left-hander. Then wandering already beginning to look at the painting, stopping first at a bright spot, and then on the elements that have meaning.

Explain this by the example of geometric figures.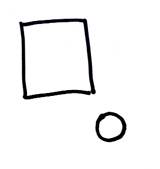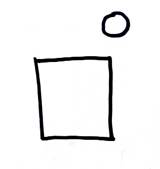 Relations between the geometric primitives can be quite dramatic. Depending on their condition, square and circle image acquire any emotional resonance.

And all because we are looking at a picture from the upper left corner in the lower right, and take shape in turn, means - in time - it means in action.

In the first case, big box "hangs" over the ball. As if to crush now. Round, soft forms, and smaller balls associate him with a young and good. Uglovaty Square here - "evil" dangerous.

And the second ball "couple", how would fly away from the square. Square now gives us a feeling of security, fundamentally, rest.

One minor in the second - in Majeure. One weak bultyhlyaetsya. The second - vigorously, through the arc, is seeking up