Eclectic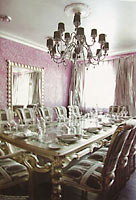 (XIX century, he was 1830-1890.)

To some extent eclectic always existed as an inevitable consequence of the dialogue of different cultures, but a fundamental principle of art has become precisely in the XIX century. All the fault of romanticism, with its philosophy of "free movement in historical time" and the abandonment of the strict canons in the arts.

Fashion has become a pressing and all that was comfortable and beautiful in the interiors of past styles. Many art critics have accused Eklektiku in excessive congestion and poor taste, lack of individuality.

Yet, it had its own distinctive features: plastic form, the abundance of textiles, furniture softness and comfort, many decorative elements that could be robust from different corners of the world, reminiscent of cultures East, Mediterranean countries, etc.