Oak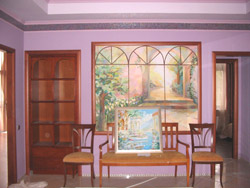 Oak - "heavy artillery" elite class of wood. It is valuable for its outstanding aesthetic qualities, is the feeling of safety, thoroughly. Oak - often expensive satellite interiors. Oak sawn in the market is presented in much smaller quantities than coniferous wood, and as hard rock, it is complex in drying and processing. The choice of oak greatly increases the price of timber window.

Unfortunately more often than would appear reports that the window of improperly dried oak a few months "led". By the same heavy oak leaf, so they recommend not to do too much, to avoid overloading the fixture. Taking care of the lacquer coating and need protection from bugs as well as oak and pine - without lacquer oak becomes gray, and although oak wood resists decay, but can not resist against the bugs-tochilschika.

All the same, with the task to create a solid interior of the apartment and the appearance of the cottage, there is every reason to choose windows oak or larch, depending on the desired shades - cool, sometimes grayish-greenish (the oak) or solar-light (from larch).