Followers Tiffany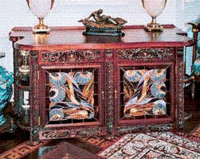 The main merit of Louis Tiffany that he was able to introduce this technology in mass, resulting in an American decorator stained-glass windows have been further developed. Since then many times have changed fashions and styles. Windows and glass lampshade from it then included in vogue, then forget again, but these lamps from Tiffany did not lose its value. They were stored and kept in private collections in the richest and famous people in the world, arising from time to time at prestigious auctions where the price goes up to several million dollars. This is not surprising, because things are not only rare beauty, but also rare complexity of execution - until now considered tiffani unsurpassed technology.

Today Tiffany followers scattered across the globe. This method is widely used in the manufacture of various fixtures: wall lamps, chandeliers, standard lamps, desk lamps, it applies to furnish an apartment, furniture. Of course, you will be offered in the shops is not collection of works by Louis Tiffany, a modern copy and a new variation on classic themes Tiffany Art Nouveau. In lamps using modern design and original designs for the beginning of the century (the famous irises and dragonflies), and modern paintings in this style. Modern stained glass windows in the technique "tiffani" performed on erzats-technology: instead of expensive bronze alloy used plastic and metal, similar to patinirovannuyu bronze. Cut on cardboard, tracing paper or colored patterns on the edges of glass against a thin strip of copper foil with glue caused it. Then combine all glass, solder among themselves and obluzhivayutsya soldering tin and sepia special preparations.

In addition, there are decorative and innovations. For example, a lampshade with geometric ornament (unprecedented phenomenon for style "tiffani" created on the grounds of refined and pretentious Al-Nouveau). There are lamps and small figurines of animals. There is a model in which the figure is only tread, and much of the lampshade is monochrome (another apparent deviation from style). Such models can cost from $ 200 (which was already acceptable) and above (upper bar, as you understand, it is not always possible to designate).